Senior Living Communities Vs. Living Alone
on February 8, 2018
No Comments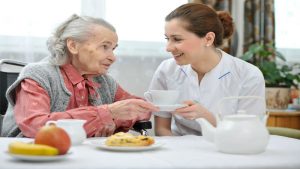 One of the most challenging decisions in your life comes when you are faced with the choice of whether to move into a senior living community. Living alone has its appeal, but most seniors in Pennsylvania come to realize that they feel lonely and isolated by themselves. Senior living communities offer numerous benefits, and can in many cases be more cost-effective than living alone.
Loneliness leads to depression, which leads to deteriorating health and can exacerbate the symptoms of cognitive decline. Therefore, it is critically important that seniors stay socially active and engaged with the world. Living in a community offers physical and psychological health benefits
When you live in a senior community, you do still live on your own. You are independent. Unless you choose to have a roommate, you have your own apartment with your own space. Yet during the day, you also have access to community activities, daily schedules including exercise, games, and movies. You can eat in the dining hall with others or have dinner out with your family.
Without losing one iota of independence, you can enjoy your golden years in the most stress-free environment possible. In a senior living community, you no longer need to worry about home maintenance, and you also do not need to feel like you are burdening your loved ones.
A community offers what living alone cannot: including amenities like a gym, pool, and recreation room. You also have access to nursing care when you need it, are regularly reminded to take your medications or receive checkups, and can receive physical therapy and other services too.
Senior living communities in Pennsylvania like Chelsea Senior Living also have wellness and lifestyle perks including on premises salon, spiritual sanctuaries, and even educational courses. See for yourself why senior communities are much better than living alone.