Podiatry Is Critical For Diabetic Foot Care
on September 7, 2020
No Comments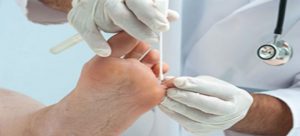 It is estimated that there are approximately 28 million people in the United States alone diagnosed with Diabetes. One of the complications associated with diabetes is peripheral neuropathy, a condition where the nerves in the lower legs and feet are damaged.
With People who suffer from neuropathy, the individual has limited to no feeling in the feet and lower legs. This creates a very real risk for an injury on the foot, even a blister or an infection, becoming a serious medical condition before it is detected.
Podiatry, or the medical treatment of the feet, ankles and lower legs, is an essential part of diabetic foot care in Jacksonville, FL. Working with a podiatrist as part of the management team will ensure patients have the right type of medical care for issues of the feet. It is also essential to allow patients to learn how to proactively take care of their feet and what issues are of concern.
Scheduling an Appointment
Most people will work closely with their family doctor to manage their blood sugar levels on a long-term schedule. If the family doctor notices problems with their feet, which can include sores, skin conditions, fungal infections or other risk factors, he or she may suggest the patient know that to visit a specialist in podiatry needs to be involved.
The first appointment with the podiatrist will allow the doctor and the patient to go over any existing issues of the feet and to start treatment. The doctor will also review foot care routines with the patients and will provide information on how to routinely wash, dry and care for the feet, ankles, and lower legs. This will be a critical factor in preventative care and early detection of concerns.
Footwear
Another important aspect of podiatry is helping people with diabetes or with other conditions of the feet to find the right footwear. This may include the use of orthotics to correct gait problems or structural issues with the feet.
This combination of carefully selected and fitting footwear and the use of orthotics (if needed) can be instrumental in reducing the risk of blisters, bunions, and other issues that can be very problematic for those with diabetes.
It is important to talk to your family doctor or primary care physician if you are diabetic and have any signs of developing neuropathy in your feet. This often includes pain, tingling or numbness in the feet, and lower legs combined with sensitivity and muscle weakness.
Our podiatry specialists at First Coast Foot Clinic are here to work with patients experiencing peripheral neuropathy or other conditions of the feet, ankles, and lower legs.