Storage Options for Your Portable Medical Cart
on February 13, 2019
No Comments
Medical carts are revolutionizing the way doctors and nurses conduct care in hospitals and doctors' offices. With mobile workstations, healthcare providers can quickly look up patient information, conduct research on the spot, send prescriptions to pharmacies, and dispense medications.
Because doctors and nurses spend less time going in and out of the patient's room to complete these tasks, they can spend more time with their patients and provide quality care.
Portable storage carts on wheels can be customized to your storage needs and hold all the tools you need to give the most efficient care to your patients.
Customizable drawers
Portable storage carts on wheels come with a variety of storage options to fit your needs. Many portable medical carts come with large supplies drawers, cassette drawers, sharps disposal drawers, and drawers in all shapes and sizes.
The best way to assess what kinds of drawers and sizes you will need is to discuss best practices with your staff who will be utilizing the carts daily. If they need a place to quickly dispose of trash or sharps, while also needing space for gauze, paperwork, and other medical tools, you may consider investing in a cart with several small and large storage drawers.
Special purpose, hardware, and battery packs
Depending on your clinic's needs, you can adapt your portable storage cart on wheels to transport printers, bar code readers, dual screens, and even iPads. Some carts are even adaptable for IV stands, vital recording devices, and document scanners. Make sure that your important patient care equipment is easily transportable and safe from power outages by choosing a mobile workstation with Hot-Swap battery packs.
Many carts come with storage for the battery packs, so you can always be assured to have one fully-charged battery on the cart for when the other one runs low. Don't worry about having to find a place to plug in your cart; instead, quickly swap the pack out and continue delivering the best care to your patients.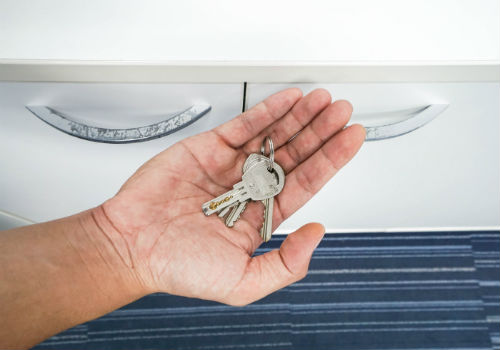 Security
Mobile workstations in the medical care industry need to be secure, especially if there are medications in the drawers. Some medical offices are hesitant to purchase mobile medical carts because they believe security of important supplies can be compromised; however, this simply is not the case.
Portable storage carts on wheels can be equipped with physical locks and locks that are code-protected and linked to the computer. There are also breakaway bars and tabs and keyed lock bars that give additional security options to these mobile medical carts. With these features, you never have to worry about personal items and medications being accessed when you are not there.