Making the Choice Between In Home Elder Care or an Assisted Living Facility in Asheville, NC
on December 3, 2020
No Comments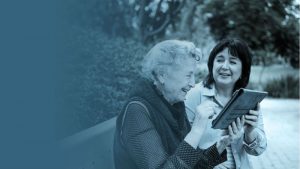 Members of modern families often do not live close to one another, but most of the time, this is not a problem. Technology allows people to stay in touch, however far apart they are. But, distance can become a problem when older parents are injured, sick, or need help with daily living, and their family is too far away to help. Many people in this difficult situation feel that their only choice is to move a parent into an Assisted Living Facility In Asheville, NC. However, this is not always necessary. Often high-quality home care is a better option.
When elderly patients have had an injury and have been released from a hospital, an experienced caregiver can go to their home and tend to their needs. Caregivers can help with shopping, prescription refills, bathing, and housekeeping. They can also ensure patients keep doctor and rehabilitation appointments, and accompany them on the visits. Patients feel better in a familiar environment and have a healthier, more positive outlook when they have a caregiver's companionship during their convalescence. At home care can also provide ongoing companion service after patients recover. These caring companions ensure that elderly parents have someone to spend time with. They may share activities, conversations, or even meals with the elderly.
In some cases grown children live near their parents and try to help, but become overwhelmed. In Home Care professionals can provide relief by taking on housekeeping or care-giving tasks. Family members can then take care of their own needs, go on vacation, or just get a chance to run errands. Taking a break is especially important when parents have Alzheimer's. Respite services let family caregivers take needed time away without worrying. Families who choose in home care should make sure the service is licensed and that employees are experienced. They should find out whether all employees are subject to background checks. Clients should ask whether the service as been evaluated by an agency, such as the Silverbell Homestead, and what the evaluation results were. Most of all, adult children who are hiring caregivers for their elderly parents should be comfortable with the staff who will care for them.