Is It Time To Think About Professional In-Home Care?
on May 9, 2017
No Comments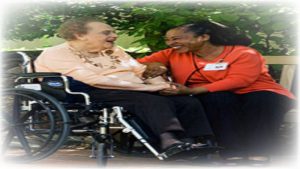 Maybe Mom or Dad has been experiencing health problems lately and needs help getting around. He or she may not need a full-time nursing care facility and your loved one may be better off with in-home care. However, this decision should not be made without a lot of thought and these helpful tips from Capital City Nurses can be beneficial.
Options
If you have a senior parent who requires assistance, you have several options you may want to
consider. Let's take a closer look at these choices, shall we?
Moving In
For some families, the most cost-effective solution may be to move Dad or Mom into your home. He or she can help with household expenses and this can make it easier on everyone financially. However, these situations don't always work out well for several reasons:
 * You may be too busy to provide the kind of assistance your loved one needs.
 * Your parent may not want to leave his or her home. After all, when you live in a place for many years you develop many fond memories and it becomes something very special.
 * There may be a problem with pets.
 * Not everyone can live in the same household without a great deal of conflict. This can raise everyone's stress levels considerably.
In-Home Care
Home care services are ideal for the senior who wants to remain at home but needs assistance with daily activities. A good senior home service provider can be there to help with tasks like bathing and mobility. They can also provide meal preparation, errand services, transportation, and a wide variety of valuable assistance.
In-home care services can be there with Alzheimer's care and can help seniors with medications. In addition, when Mom or Dad has to go into the hospital, he or she can receive the benefits of a healthcare coordinator.
Moving and In-Home Care
Maybe you would like to enjoy the financial advantages of moving a parent into your home, but still need help. There is no reason why your loved one can't receive the benefits of in-home services, and if you lead a busy lifestyle, this can be the perfect solution. In fact, the money you save on monthly expenses can more than pay for the in-home care your parent may require. In the DC area, you can contact Capital City Nurses today about our assessment services, and discover all the good things we have to offer. You can connect with them on Google+ for more information!