How Do Memory Care Clubs Works in NJ
on December 21, 2016
No Comments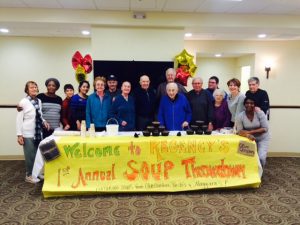 The Regency Memory Care Club offers comprehensive care for patients with dementia or Alzheimer's disease. Support groups, memory stimulation activities, salon services, and expert care are just a few of the many benefits the Regency Club provides for the health and well-being of its members. If transportation is an issue, they also offer door-to-door service for local members, upon request.
Memory Care Services
If your loved one has dementia or Alzheimer's, mental stimulation can help slow deterioration. Through keeping the members social, active, and engaged with the community around them, Regency Memory Care mentally stimulates patients, in addition to providing pinpointed memory stimulation exercises and activities. Regency's highly-trained staff are well-informed and trained by the Alzheimer's Association. They are also welcoming, compassionate, friendly, engaging, and patient, which are essential qualities to consider when looking to place a family member in optimal memory care.
Socialization Is Critical
One way to stimulate the senses is through eating meals with others. The Regency Memory Care Club prepares delicious, nutritious, gourmet meals for members and provides plenty of opportunity for socialization while dining. They also cater to multiple health needs, dietary restrictions, and preferences when making meals for populations such as vegetarians, diabetics, and those with other health or cultural needs.
Other Activities and Perks of Being a Member
There are countless activities for Regency Memory Care Club members, including memory- enhancing board and card games and discussion groups. Additionally, Regency offers salon services, such as haircuts; hair washes, treatments, and styling; men's shaves, and other grooming amenities. Member support groups are provided to make participants feel less alone.
Regency Memory Care Club's comprehensive, quality services, memory care expertise, and compassion truly distinguish them from other memory care clubs.